AboutFACE Theatre Company have premiered many plays at The Civic over the years.  Following a hiatus (of over a decade!!) they are returning to The Civic this August with the world premiere of 'The Gods of the Ozarks'a fast-moving and highly theatrical black comedy. Anna director of AboutFace spoke to us about their 'return'………
Returning to The Civic after 14 years is like coming home. We were lucky enough to produce 5 Irish premieres at The Civic from 2003-2005 (The Glory of Living, Collected Stories, The Laramie Project, Featuring Loretta & Boy Gets Girl). We've always loved the Tallaght audiences with their honesty and great sense of humour. And now, after a few years away, we are back: bringing a cast of 8 in a World Premiere production to the Studio Theatre at the Civic this August and we couldn't be more delighted. We know the Civic audiences will really appreciate and enjoy the story, the characters and the humour in The Gods of the Ozarks by Matthew Cole Kelly.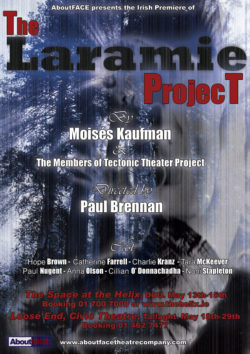 So where have we been? Well, my husband and I, Paul Nugent who plays Jonah, the ineffective physician in the play, moved to New York in 2005 looking to spread our wings and to further develop our theatre craft and experience (I'm originally from the States). Between acting, teaching and directing, we worked on many fantastic projects, at some great theatres, learning so much. We took classes with Broadway professionals. And we even co-created a new play festival, NEWvember, in New York, which we have now brought back to Dublin (and to The Civic this November). After a decade of the amazing NYC experience, we were ready to come back to where we met and where it all started for us, back home to Dublin.
We have a passion for theatre, for the intimacy, for the electricity, for the live story experience, that only theatre can give. We hope you will join us on this adventure, for this play truly is an adventure! A quick-moving, larger-than-life tale set in a mythical town in 1800s Missouri, telling a pretty amazing story … We can't wait to be back at the Civic sharing it with you!
Anna (Olson) Nugent,Co-Artistic Director of AboutFACE Ireland
Director, The Gods of the Ozarks at The Studio Theatre at The Civic this August
________________________________________________________________________________________
The Gods of the Ozarks
20 – 24 August
Studio Theatre