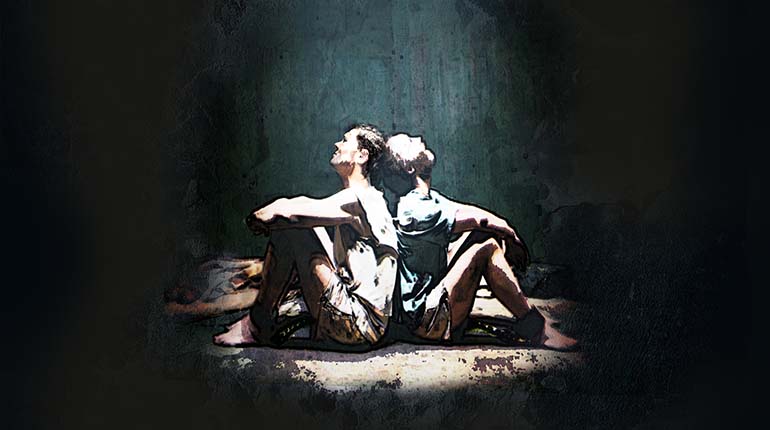 "We are in a decidedly perilous position, to put it mildly"'
Ever popular Decadent returns to the Civic with this great Irish classic. Adam, an American doctor, Edward, an Irish journalist, and Michael, an English academic, have little to unite them beyond being human in the same small space.
Yet somehow, together, they determine to ward off madness and forestall despair. Somewhere lurk their unseen captors yet, in the cell, there are stories of adventure and love, there is song and laughter, and even a surge of writing, cocktail-drinking and movie-making.
Inspired by the abduction of Brian Keenan taken hostage in Lebanon in the 1980s, Someone Who'll Watch Over Me is playwright Frank McGuinness's hymn to the defiant power of the human spirit and the creative imagination.
'Flynn's direction allows the relationships between the men a full range of emotions: intense dislike as well as need, empathy and love, expressed in tiny gestures of physical intimacy'  The Guardian
'Someone Who'll Watch Over Me' see's Frank McGuinness at the very top of his form, extracting from the depths of the human condition uncrushable determination, passion and compassion, anger and jealousy, spite and fear and lashings of black subversive humour'.  The Irish Times
 'the audience are so invested in the drama that they readily gasp, laugh and cry'. Irish Theatre Magazine
Written by Frank McGuinness
Presented by Decadent Theatre Company
---
Director's Note
Frank McGuinness' Someone Who'll Watch Over Me is a script that stands the test of time. The themes of the play are terrorism and kidnapping, cultural bias and conflict, and inevitably the death of the innocent. We absorb such events within our daily press and TV headlines but rarely are we asked to consider the psychological toll of those caught in the middle.
McGuinness takes us almost playfully to witness an American doctor and an Irish journalist who are being held captive by terrorists in Beirut. They are joined by an English academic. The three display national biases and prejudices which are intensified in the cramped confines of their cell. They jest and they argue but are supportive in their mutual determination to survive.
It is an emotional journey for an audience through the men's fear and horror, friendship and fellowship, humour and hope. As time passes, resentments and recriminations give way to an acknowledgment of their own national prejudices, their stereotypes and misconceptions. They learn that humor is the surest weapon against their captors.
Each comes to know himself through listening to the others' stories and, at the end of the play, they are capable of standing alone to face their fate. Someone Who'll Watch Over Me has come to be an apt play for a time when extremist forces in both the east and the west bring Armageddon closer by the day.
---
★★★★ – Helen Meany
An American hostage in the Middle East reads aloud from the Qur'an: "To me my religion, to you your religion." Frank McGuinness's 1992 play seems prescient now: its preoccupation with racial stereotypes and the mutual misunderstanding of western and Islamic cultures speaks directly to us.
Andrew Flynn's production, first seen in Galway three years ago, emphasises the physical discomfort of its three characters, held hostage in Lebanon. An American doctor (Paul Roe), a Northern Irish journalist (Diarmuid de Faoite) and an English academic (Rod Goodall) are chained to the wall on a small circular stage. Designed by Owen McCarthaigh as a claustrophobic dungeon where they cannot tell night from day, it is overlooked by a narrow window through which the shape of one of their captors can occasionally be glimpsed.
While the script's humour is fully exploited by this excellent cast, the production has a dark tone, which seems appropriate to the charged geopolitical climate. The fear that they might not survive is evident, even amid the banter, sparring and absurd comic fantasies they invent to pass the hours. De Faoite – looking strikingly like Brian Keenan – brings an aggressive edge to his character as he taunts the newly arrived Englishman, Michael (Goodall). There is a tense silence in the audience at the angry outburst from Adam (Roe): "I want to kill an Arab and see their faces filled with hate."
Flynn's direction allows the relationships between the men a full range of emotions: intense dislike as well as need, empathy and love, expressed in tiny gestures of physical intimacy. As he is left alone in the gloom, Goodall's gesture of outstretched arms affirms the play's portrayal of compassion and courage