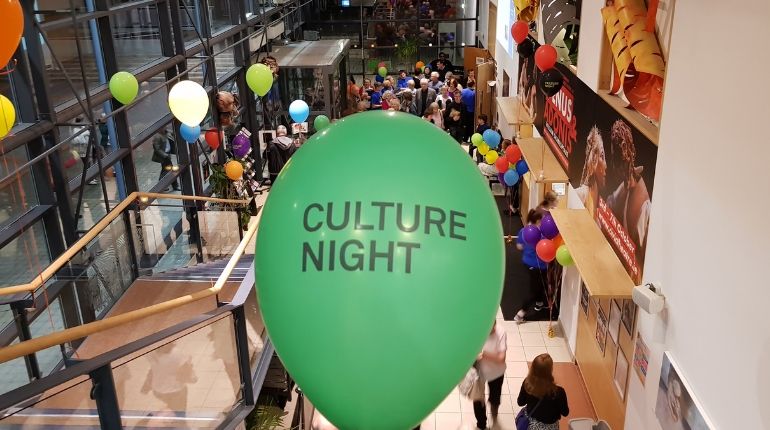 On Friday 20th September we will host a series of FREE events here at The Civic, as part of Culture Night 2019.
Here is our full schedule of events:
16:00 – 21:30 Gallery Exhibition Opening: 20 Years of The Civic
FAMILY 
16:00 – 16:30 BigKidLittleKid from Anna Newell (suitable for children ages 3-6 + their families), open dress rehearsal.
BigKidLittleKid promises to delight and enchant its audiences with its unique take on the complicated world of sibling rivalry.
Main Space. Places are limited. CLICK HERE TO BOOK NOW
CRAFTS WORKSHOP
16:30 – 18:30 Origami & finger puppets for Kids with Janine Nagle from Drama Beans. Drop in!
MUSIC BETELNUT CAFE
18:00 -21:30 Acoustic Music in Betelnut Café. Drop in!
BARD MYTHOLOGIES
18:00 – 20:00 Are you Deirdre, Oisin, Niamh….? Take a short quiz to find out who you most resemble in Irish Mythology. Drop In!

BEHIND-THE-SCENES VENUE TOURS
18:30 – 21:30 Go behind the scenes with a member of The Civic team and get an exclusive peek into the backstage world of The Civic. Our Behind the Scenes Tour covers the history of The Civic as well as visits to our Green Room, Tech Room, Dressing Rooms and Main Space. Learn why this theatre is a favourite with audiences and performers alike and why The Civic holds a special place in the hearts of every visitor! There will be lots of surprises along the way!
Tours are FREE but must be pre-booked. Tours leave every 15 mins. Places are limited CLICK HERE TO BOOK NOW