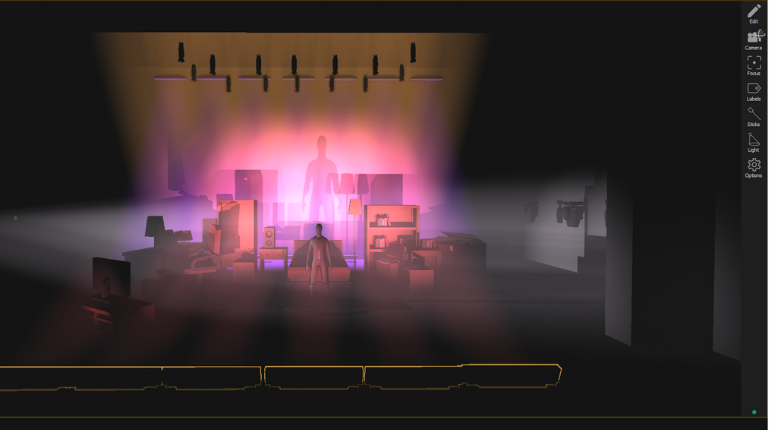 Tenderfoot is The Civic's apprentice theatre programme for second level students. This year 17 schools and over 70 young people are participating virtually. Veronica Foo is Tenderfoot's lighting design Mentor. Here she gives us an insight into Tenderfoot Online……
First things first, it's very strange to teach someone through zoom on how to focus a light. How can you teach someone the tactile sensation of running a shutter in, turning the focus wheel to sharpen the beam, and panning and tilting the fixture until it is just right? With theatre lighting being such a hands-on subject and with hands-on anything being very much frowned upon nowadays, I was stuck with the awkward situation of teaching these young minds the mechanics of theatre when they can't  be there to experience it in person. On top of that, this is my first year with the Tenderfoot programme.
Initially, the focusing lesson came with a lot of pointing and gesturing to the camera. Charades and miming. Thankfully with Augmented Reality becoming ever more normalised in the lighting world, that didn't last long. With AR we can create the Civic Theatre in a virtual space and light it however we want to. With this I can send whole lighting rigs, theatres and sets in tidy little files to the students. They can control the lights with a free programming software released just last year for those of us stuck at home who wish more than anything to be waiting for clearance and starting a show.
Veronica Foo – Lighting Design Mentor
Veronica Foo, from and based in Dublin, studied Stage Management and Technical Theatre at The Lir Academy where she graduated in 2018 with Distinction. She has worked on many productions in film, TV, live events and theatre as a Lighting Designer, Chief Electrician, Relighter, Production Manager, and Lighting Technician of which it would be unfair to name some, but not all.
To Find out More about Tenderfoot in Lockdown 
CLICK HERE