Recently, the Civic theatre embarked on a new pilot theatre Programme for Secondary Schools, generously funded by patrons of The Civic, via our Inspire Scheme of voluntary donations (More Info here).  The plan is simple, to get more students directly involved with theatre as a means to encourage self expression and creative thinking and also to see some really good contemporary Irish Theatre.  We also hope to encourage them to engage more with the arts facilities available on their doorstep.  We believe that by fostering this early introduction to theatre, we may spark a lifelong curiosity and appreciation of the arts for these young people.
Building on the success of our Tenderfoot Programme (more info here), the Civic and professional theatre mentor Veronica Coburn are working with 1st Year Students from Tallaght Community School and their teacher Ms. Katie Moran to bring professional drama directly into the heart of their 1st year experience.  The aim of the project is to facilitate creative practice, awareness of contemporary theatre and direct engagement in drama by attending a series of relevant performances in the Civic over the course of their 1st year at second level.  It is then planned to grow and develop their experience over the course of their secondary school journey.
The first experience was to immerse themselves in the word of Tom Crean through facilitated discussion and role play, led in the school by Veronica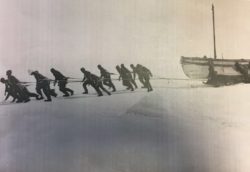 That evening, outside of school hours, the group with teachers Katie and Leah attended a performance of Tom Crean Antarctic Explorer at the Civic.  For some, it was their first trip to the theatre.  As part of their evening they got to give feedback and to ask Aidan Dooley (creator and star of this award-winning play) some of the burning questions they were left with….
We would like to thank you for the great experience. For many of us it was our first time going to The Civic to watch a play. We really enjoyed the performance and we have some questions we would like to ask.
Has Aidan ever been to the pub "The South Pole Inn"?
I have many times – and my very first performance was in the upstairs room where Tom slept. That was way back in 2003.
How does he remember all of his lines, does he have a method that would help us with our exams?
Each thing I say as Tom is because of what I said in the previous sentence.  Like "I woke up this morning. I stopped the alarm and yawned"
Did Tom Crean ever go to Dublin?
He did. He lived in Drumcondra for a year or so with his young family in the early 1920's.
Was your costume comfortable? Do you like playing the part of Tom Crean?
The costume is now like a part of me as I have performed the show so often. It is comfortable but under the stage lights it is very, very warm. I love playing the part – I am so lucky to be telling the story of this great man.
How did you research Crean's life?
I read and read many books and diaries but the main research source was the book UNSUNG HERO by Michael Smith.
What is the highest number of people to attend your show in one night?
In the Olympia I had an audience of 1200 people.
How much does it cost to stage a play like yours?
If you include all the research I did  and writing and then include all the work getting the costume and set together – my fee for the performance each night and then the cost of the theatre and the stage management …per show it costs about €1200.
What do you do in between breaks (interval)?
I sit down and drink lots of water – As I am alone I have no one to talk to so I wait and rest for the second half.
How did you get into acting and what inspired you?
I started with school plays. I was in Snow White when I was 10 years old – played one of the dwarfs – Grumpy if I recall!!!  I then did more shows in secondary school and progressed onto amateur shows with friends in Dublin.
How long did you rehearse for before the play?
Normally a play rehearses for 3-4 weeks but as this is a special one person show I did very little rehearsal as I worked out how to do the play in front of audiences in the Museum in London where I started the show. It was a 20 minute educational piece for school students who came to see the big exhibition on Scott and Shackleton.
Who provided the props?
I bought all the smaller things myself over the years – the sledge was built for me by a props maker in Chatham in Kent. It splits in two and so can fit in my car when I travel from theatre to theatre.  The stool I bought in an old shop in Thomas Street in Dublin.
What happened to the pipe? Why did it disappear?
I use the pipe at the very start as you all know Tom Crean's famous picture of him and his pipe. I take it up at certain times in the first half of the show – remember the 'coughing bit' well I am holding the pipe then – after that I put it back into its metal box that sits on the stage on a brown box beside me.
How many times have you done this play?
I have performed the show over 1000 times from 2003 and now (not including the many shows at the museum between 2000 and 2003)
What was the ladder for?
Ah now this is not the first time school students have asked me that – it's not a ladder it's the sledge that they pulled everything on when the men were in the Antarctic.  I hang it from the theatre ceiling so it forms a line above my head like making a picture frame.
How did you feel as we watched you?
Although I am concentrating so much on how to tell his story while out on the stage I also have to say that I feel great when people are listening and watching intently for the entire show.
Would you like to be an explorer?
I would love to go to some of the extraordinary places all over the world. I have met real explorers like Irishman Pat Falvey and listening to how they got to the top of Mount Everest or the South Pole is still awe inspiring.
Would you do it again?
I do the show many times when I am touring but once the few weeks are over I don't do the show again for a few months. I always look forward to doing the show and would do it again and again and again!!
Feedback on the performance:
Daniel "It was funny"
Chloe "It was emotional with a funny side"
Sarah "It told us a lot"
Craig "energetic"
Cian "Well thought out performance"
Ava "He spoke very clearly"
_________________________________________________________________________
We look forward to keeping you updated on this project and of further initiatives as part of our Inspire Scheme.