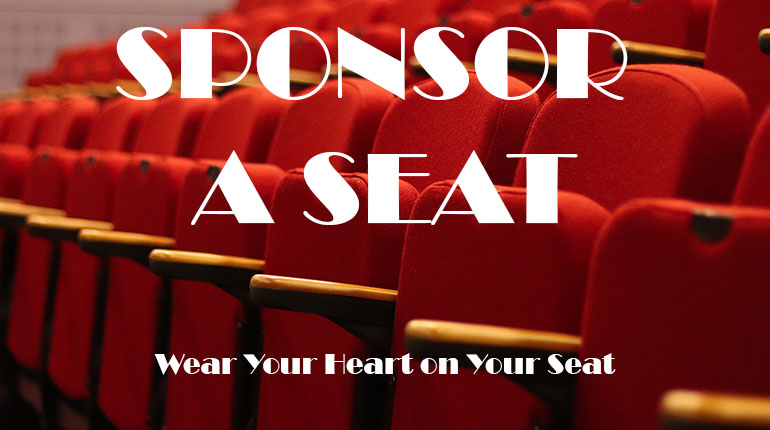 Wear Your Heart on Your Seat
Our patrons say it all the time, there are no bad seats in the Civic and after our recent renovations this experience has improved tenfold. The seats on the Main stage of the Civic are now richly upholstered in red with higher backs and deeper seat cushions and backs. The only thing missing? Your name engraved on a plaque affixed to the back of a theatre seat!
We are delighted to announce the completed refurbishment of the seating in our Main Auditorium. This project was part funded through a generous grant under the Arts and Culture Capital Scheme 2016 – 2018 from the Department of Arts, Heritage, Regional, Rural and Gaeltacht Affairs and with generous support from South Dublin County Council. The Civic is located in the heart of Tallaght and South Dublin. We are a theatre built for and supported by the people of South Dublin. It is our mission to be a place of possibility, opportunity and transformation where all people are inspired and nurtured to play a creative and civic role in our world.
Please help us to deliver on our mission. In exchange for your support we will place a commemorative plaque on a seat of your choosing in the auditorium. You can personalise the text on the plaque with a message, quote or dedication. It's an ideal way to pay tribute to a loved one in a creative and long lasting way, to commemorate an anniversary, to celebrate an important milestone or show your support for The Civic. You will also receive a special certificate of sponsorship which will include your dedication, your seat number and a photograph of the plaque in place on the seat. You will also receive two complimentary tickets to a Civic Theatre event (subject to availability) and we will acknowledge your generous donation on our list of supporters online. Since The Civic is a registered charity (charity number 20040765), this money will go directly towards supporting our work.
There are many reasons why you might want to sponsor a seat:
• Pay tribute to a loved one
• Commemorate an anniversary
• Celebrate an important milestone
• Birthday or Christmas present
• Celebrate the arrival of a new family member
• Advertise your company
• Support the arts in Tallaght
For more information e-mail Niamh Ferry here or call 01 4627460