Blackbird Theatre, was born in Tallaght, Dublin six years ago. With over 20 years experience in Theatre between them, Helen Hannon and Emma O'Brien have produced several plays over the past few years with including 'Rope' , 'From Both Hips', 'The Importance of Being Earnest', 'The Plough and The Stars' and 'Someone Who'll Watch Over Me'.  This September they bring new play 'Eclipsed' to the stage.
This harrowing story led by an all female cast brings to life the darkness of the old Magdalene laundries. It tells the woeful tale  of 'fallen' women who have had their babies snatched from them at birth by the order of Nuns and then given up for adoption, and their wretched lives of drudgery earning their keep in the laundry. We got to know the cast a bit better in this blog…….
Nora Petton (Nellie Nora Langan) – Nora is secondary school teacher who was easily coerced to join in this production – She has been dying to get up on the stage! Nora debuted in the Feis Ceoil many years ago and has a big grá for singing traditional tunes whenever the opportunity arises. She loves being active – whether that is running up hills, swimming in the sea or trying out new adventures. Nora says "This has been such a wonderful new challenge and I have really enjoyed the journey with all the fabulous ladies I have met along the way."
Alannah Wilson (Juliet Mannion) – Alannah was raised in a small village in the Wicklow mountains, the arts have always played a huge role in her life. She has a great love for music, writing, and singing but her biggest passion is acting. Alannah has been performing in amateur productions since she was 5 and has loved being on stage ever since. She just finished her first year in a performance and drama course and intends on pursuing acting as a full time career in the future. When Alannah found out about Eclipsed, she said "it seemed like the perfect opportunity to not only perform but to tell a truly meaningful story alongside a cast of strong intelligent and talented women".

Sharon Cullen (Mandy Prenderville) – Sharon, a Tallaght native; is a secondary school teacher, mam to three children and super ex footballer. She loves all things food, music and dance related. Says she "is excited to be joining the cast for her debut performance on stage".

Jean Lowry (Brigit Murphy) – Jean has always enjoyed the arts but this is her first time taking part in a production; she was looking for a new personal challenge to mark turning 40 this year and this was the perfect project! Jean is married to Lee and has two children – Harry & Heidi. She has worked as a Youth Officer with Foróige for the past 16 years in Tallaght. Jean enjoys travelling, time with friends and maintaining a healthy lifestyle. She has thoroughly enjoyed working with the cast & crew and will look forward to raising a margarita to a successful show.
Tanya O'Halloran (Cathy McNamara) – Tanya is a Tallaght native with a natural interest in all things creative. A former fashion designer, Tanya is now teaching Art at St. Mark's Community School, Tallaght. Having worked on the set design of one of Director Helen Hannon's previous plays, Tanya became interested in drama and made this interest known to the director. Roll on a couple of years and playing Cathy in Eclipsed will be her first appearance on the stage.

Emma Paxton (Sister Virginia) – Stillorgan native Emma, currently works in insurance and is finishing her final exams this month. She grew up taking part in theatre and musical theatre, and it is her favourite thing in the world. Emma is doing her best to see every musical at LEAST once in her lifetime! She said "I am so happy to be a part of this play, as it has reignited my love for performance, and I've had such a great time doing it!"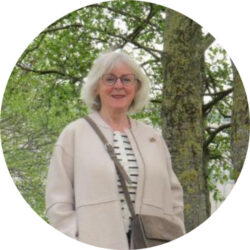 Teresa Barrett (Mother Victoria) – Kerry native, Dublin dweller Teresa loved teaching Gaeilge and French in Tallaght until retirement two years ago. She has no official acting experience apart from a stint as the back end of horse in a student concert many moons ago! Teresa loves the outdoors, languages, poetry, folklore and is a member of Cór Duibhlinne. Teresa said "I never considered going on stage until invited by Helen Hannon. "My motto is say 'yes'."
Eclipsed will be on stage on Friday 2nd September at 8pm