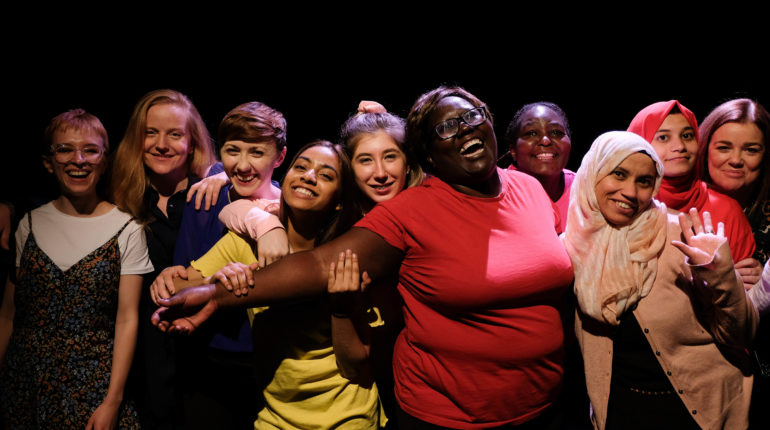 A new festival of work by emerging and established women theatre artists is coming to the Civic! After a week of development in the Abbey Theatre as part of the 5×5 programme, SoloSIRENs are launching a programme of work happening this November and December.
SoloSIRENS is an exciting new festival dedicated to women theatre artists who are writing and performing their own work. Curated, directed and staffed entirely by a female team, SoloSIRENS is a platform for women to collectively share and express the challenges facing women in the arts and society today. Exploring themes of abuse and addiction, the patriarchal voices that haunt us from without and within, and how we rebuild ourselves when things fall apart.
Featuring plays by Jenny Macdonald, Jacinta Sheeran, Nicole Rourke and our SoloSIRENs Collective, the SoloSIRENs Festival will run at The Civic, Tallaght from November 1 – December 14th.
At the heart of SoloSIRENs is the ambition to create a unique engagement between women artists and women living in the communities of South Dublin County. Our collective will share and present stories that are rarely told. Tallaght is one of the largest suburbs in Dublin and is home to a dynamic community and vibrant cultural life. The SoloSIRENs Collective will share a multiplicity of narrative and voices, showcasing the richness of their diversity. We are creating a space for debate, dialogue and reflection about how women's voices are presented, or excluded within artistic institutions and our wider society.
Director of the festival, Jenny Macdonald, had the idea for the festival after creating her own solo show, Enthroned:
'When I made my solo show Enthroned, I had something important to say and I needed a creative team to help me say it. Once I did that, a lot of other women told me about things they felt needed to be said. I wanted to create a set of circumstances for more of those stories to be heard; an artistic space where we can say what needs to be said in a way that strengthens us all.'
You can find out more information about the festival at the SoloSIRENs website here 
Performance dates and times:
Enthroned by Jenny Macdonald
Dates:​ 1st & 2nd November
Times:​ 8:15pm
Tickets:​ €14 / €12​ *Ticket bundle available for all four shows Booking​: ​www.civictheatre.ie
Sweet About Me by Jacinta Sheerin
Dates​: 15th & 16th November
Times​: 8:15pm
Tickets:​ €14 / €12​
Baggage by Nicole Rourke
Dates: 29th & 30th November
Times:8:15pm
Tickets:​ €14 / €12​
Falling by SoloSIRENs Collective
Dates​: 13th & 14th December
Times​: 8:15pm
Tickets:​ €14 / €12​
 SoloSIRENs is a Tallaght Community Arts initiative. It is generously supported by The Arts Council/An Comhairle Ealaíon, Creative Ireland, South Dublin County Council Arts Office, The Abbey Theatre and The Civic.