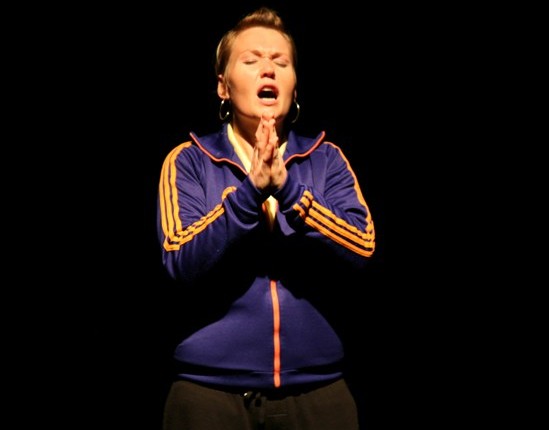 We asked one of our loyal patrons to preview upcoming show "Eternal Rising of the Sun" in advance of its arrival at The Civic on Wednesday, 24th April.
Please take some time to read his thoughts on the play:
'I have just had the extreme pleasure of watching 'Eternal Rising of the Sun' – written by and starring Amy Conroy. This is a truly remarkable adaptation of an insight into one woman's life. This poor woman had to deal with everything from sexual abuse, an abusive partner, trying to fit in and raising a mixed race child just for starters. Her trials, tribulations, highs and lows are something that can be seen within all walks of life in different ways throughout Ireland. If you have not lived part of it yourself, you will know someone who has.
Amy Conroy executes this role and all of the other characters with brilliance and she is a remarkable performer. She has a great memory and an even better artistic presence on stage not to mention some pretty nifty moves. She also has the ability to switch between characters flawlessly. Without giving too much away I have no doubt that everyone that goes to see this brilliant performance will identify with the main character and the complete story.
Whether you are 16 years or age or 116 years of age, you will be glued to your seat for this one, and it definitely should not be missed. It's got something for everybody. I personally found it extremely funny with lots of humour, sadness, realism and a sense of wanting. I am really looking forward to seeing this performance live.' – Darren Casey
——————————————————————————————————-
'Eternal Rising of the Sun' comes to The Civic, Tallaght for ONE NIGHT ONLY on Wednesday, 24th April. Tickets are €18 & €14 concession. Book here or phone 01 4627477.