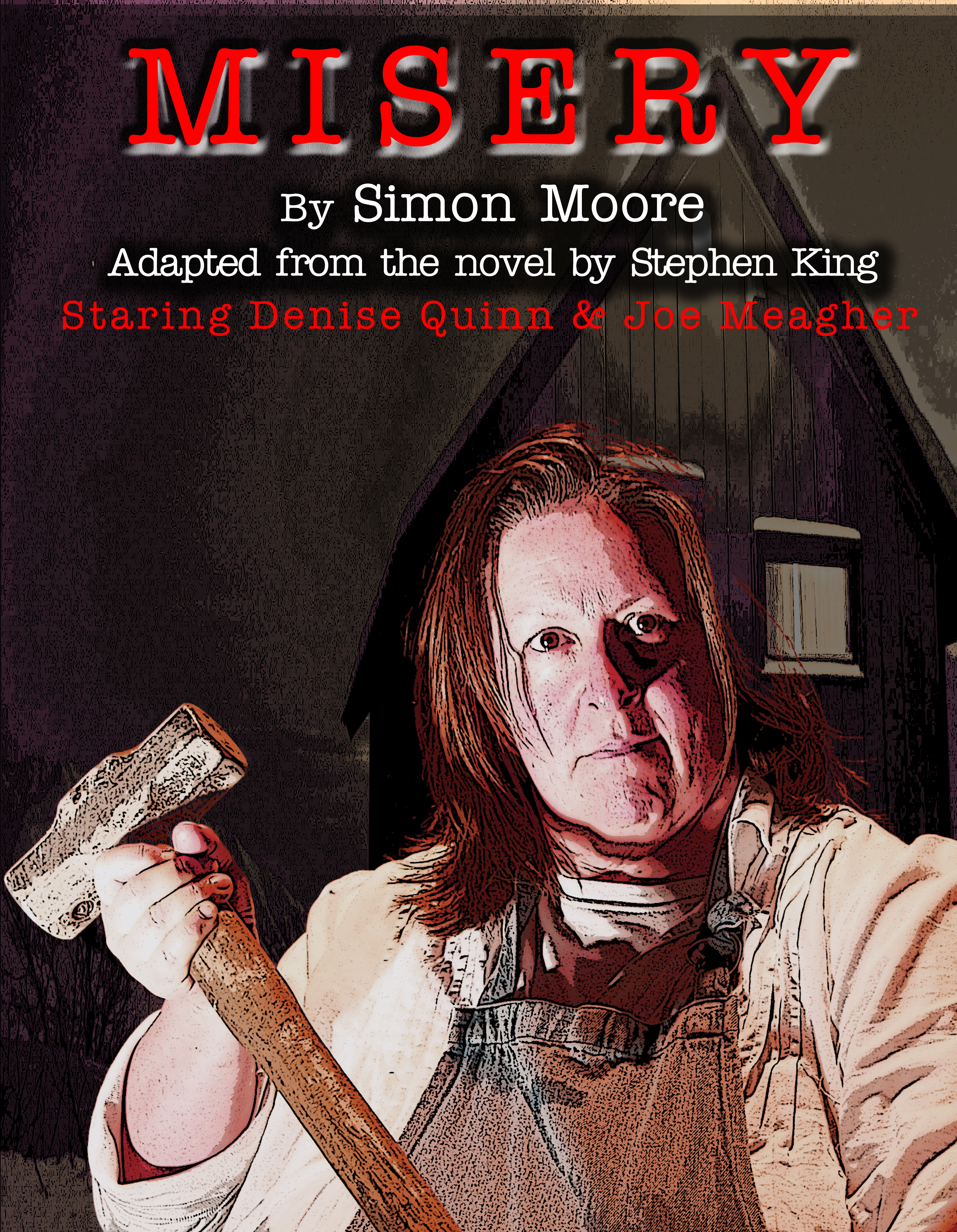 LIAM MURPHY reviews MISERY for the Muinster Express, 13th July 2012

I would have thought it was high risk for a theatre company, to put on such a well-known cinematic piece, as a stage play of Stephen King's, Misery. But Suirfire Productions, showed that theatre is often about challenging vision and John Grubb's measured and tense direction of Simon Moore's script made this Misery, at Garter Lane, before a national tour, a must see and a dramatic cliff-hanger. This was nail biting, edge of the seat stuff, with two excellent actors, delivering hammer blows of dramatic tension,that held the audience in the grip of fear and expectation.
Suirfire in a most professional manner, delivered a memorable night of tension and  richly deserved their standing ovation. The use of music to build that tension was cinematic and Jamie Roche, as Production and Sound Designer delivered a percussive soundtrack that would do credit to a horror movie. The amount of detail in the set was splendid and a thunder and lightening, penultimate scene, had the perspiration dripping from me. Kate Rellis as Stage Manager was assured and excellent and it was great to see that fine young performer, Evan Croke assisting her.
This company do their business well and the production gathered in horror and inevitability, yet it kept several surprises until the last ten minutes. While it was not as squeamish as the novel nor copied exactly from the movie, it still packed a terrifying punch, as good as the frights in, The Woman In Black. The story is reasonably well known of a romantic fiction writer, Paul Sheldon who wrote the very successful Misery series, who wakes up in a bedroom of Annie Wilkes house. She tells him, she is his number one fan. John Grubb builds the tension so well, and for the first twenty minutes, it is so ordinary, yet you know, all is not as it seems. Then Annie snaps and spills the soup. Five minutes later, Sheldon discovers his mangled legs and screams the place down. The lighting is excellent and five minutes later, Annie's anger is scary. Ten minutes later, she is burning a new manuscript in a pot barbecue. Ten minutes later its time for Christmas presents and, Let It Snow. The tension is electric and then it was intermission. Five minutes into Act Two and you are ready to climb the walls as Annie growls- "I've had enough of your excuses". Scary. Ten minutes later its the theme from Love Story and five minutes later Annie is threatening to get a shotgun and the percussive music is so edgy. Annie has flipped and is eating from a jar using a long knife. Then the thunder and lightening, chimes on the soundtrack, a block of wood,a hypodermic syringe. Sheldon high on morphine as Annie rants about, a dead parent, a dead student nurse, a dead baby and the shocker–"Everyone I love dies". And then the show takes off. You don't want to look, but you have to. Will she won't she….The two actors were superb. Joe Meagher as Sheldon, who has to emote from a bed and a wheelchair, and he hardly puts a foot wrong. Denise Quinn as Annie is just so scary and deranged as she gathered in power and craziness, to a hammer blow of brilliance.
If this thriller/shocker is your slice of theatre, book now for Misery @civictheatre in Tallaght (01 4627477) or visit www.civictheatre.ie – runs from Tuesday 9th – Saturday 13th October 2012.