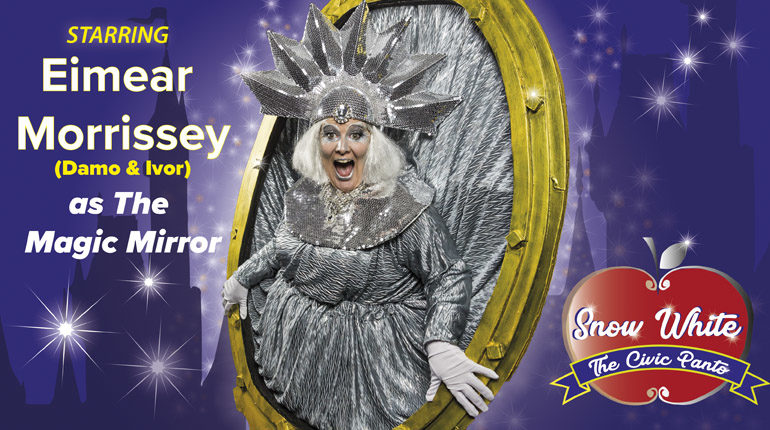 Welcome to our series of 'Meet the Cast' series of blogs, where we find out a bit more about our panto stars.  First up It's The Magic Mirror AKA Eimear.
Can you tell us a little bit about yourself, and where you grew up?
I'm Eimear, I am an only child and the eldest grandchild on my mums side of the family. And although I grew up in Clonsilla, my nana used to mind me when I was younger so that meant I went to primary school in The Assumption, Walkinstown. I'd go to school and my mum who worked in EP Mooneys would collect me on the way home. I think I might be addicted to Instagram and Spotify, when I put my phone down I love to take photos, get outside and catch up with my friends. I am a slow reader but I've gotten back into books recently and am currently reading 'The 100 year old man who climbed out a window and disappeared' by Jonas Jonasson – don't be put off by the long winded title it's actually a delight.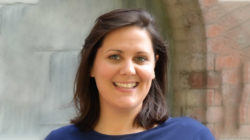 What is your background in performing?
I used to do impressions of family members and a few famous people 'Jiminy Cricket', 'Mary Robinson' and 'Elvis', random I know but I loved to perform. So as a kid I went to Speech and Drama, I think I only participated in one feis – I was way more interested in Improv and script work.Then in secondary school we did some musicals and that's when I was really bitten by the bug. After doing a degree in Maynooth and working for a while I went back to train as an actor on The Gaiety School of Acting full time training programme and graduated in 2008. Since then I have worked on stage, screen and I do a lot of voiceover work. Terms and Conditions Apply : )
What's has been your career highlight to date?
I always find it difficult to answer that, every gig brings a new challenge, exciting opportunities and the excitement of meeting new people who love the work they do as much as you do. Playing Tracey Rooney in Damo & Ivor was certainly one of the highlights because it was a return to comedy. I met some amazing people who are now good friends and we shared a lot of laughter. I as playing someone who was so far removed from me and it was a lot of fun. Plus I never would have been brave enough to get braids and although they really hurt, I had to go to a few weddings during filming. Hopefully someday my grandkids might look at those photos and think I was either bonkers or really cool – I'll take either.
Tell us about the role you have in The Civic Panto?
I play The Magic Mirror – from what I know and can reveal she is quite fun loving. She lets on to everyone shes sassy and an Independent woman – woMirror? But as soon as the Wicked Queen appears she is not so brave. She will be loads of fun and I am sure in true panto fashion she will need loads of help from the audience so tell the boys and girls to shout really loud.
What are you working on now?
I am directing a Youth Theatre play with D15 Youth Theatre and then I go back into rehearsals for Tinder The Musical Comedy which will be on stage at the Olympia for one week from the 20th August.
Can you tell us a random fact about yourself?
I once played Jan in Grease in Mountjoy Prison when our school were asked to perform it for the prisoners when I was in 5th Year.
BIOG
A graduate of The Gaiety School of Acting, Eimear is best known for her role as Tracey Rooney in the RTE2 comedy drama Damo & Ivor, which saw her reprise the role for Damo & Ivor: The Movie. Eimear has also appeared in Fair City for a number of years playing Social Worker Emily Mahon. She has recently finished a successful UK Tour of  Tinder: The Comedy directed by Daryn Crosbie, playing the role of Maz, the play also enjoyed a successful run at Dublin's Tivoli Theatre in 2018.
She has appeared in many short films and was nominated as Best Actress at The Dublin International Short Film and Music Festival for the role of Sonya in The Ballsbridge Poisoner, directed by Clive Arnold.  Eimear also has substantial stage experience working with theatre companies throughout the country, with her versatility evident in roles such as the one-woman show And then there was…Me, Grandma Eva in Jumping on my Shadow for TEAM Educational Theatre Company, Pool (No water) at the Granary Theatre Cork and the acclaimed multi-role production of The Caucasian Chalk Circle with Bruiser Theatre Company NI. She is also a well established Voiceover Artist with VOICEBANK Dublin.
__________________________________________________________
The Civic Panto
Snow White 10 -29 December
CLICK HERE TO BOOK NOW