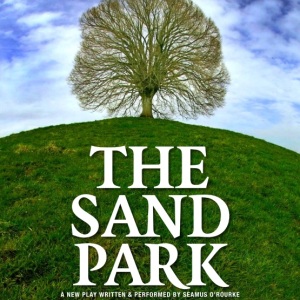 Seamus O'Rorke and Big Guerilla Productions have brought 'The Sand Park' to The Civic.  Last night in the intimate Loose End studio space, Seamus brought a crowd of theatre goers to tears with the raw emotion of his play.  They also laughed until their sides hurt!  This is a simple play about a simple man, that is not to say an unintelligent man  just a regular Joe Soap in midlands Ireland coming to terms with his grief in the only way he can.  This is a play for all of Ireland, everyone can identify with James Anthony, an Offaly farmer who bring his sandwiches in a bread wrapper to the grave of his wife and son to have a chat.
James Anthony brings us on a journey filled with laughter love and unbearable sadness.  It is the mundaneness of his tale that is nearly the most shocking, because it is so identifiable.  James Anthony is a skilled story teller and expertly skips from one story to the next all the while infusing them with character observations and wit  such as " everybody knows that our family was a notorious size for our generation… sure Daddy was 26 stone when he passed away and him after wasting away".
The subject is universal; grief and how we deal with it.  Particularly how the Irish cope with loss, usually sprinkled with our natural dark humour.  The rural rhetoric is immediately recognisable and makes the experience that more pleasurable.  The ending of 'The Sand Park' is shocking and heart-warming at the same time.  Seamus O'Rorke is superb, he brings energy, empathy and palpable emotion to the character of James Anthony Lowery, a man trying get on with things the best he can.  A delightful  play not to be missed.
~ Reviewed by Emma Toner
——————–
The Sand Park runs at The Civic until Sat 23rd February in the Main Auditorium. Tickets are available online at www.civictheatre.ie or phone 01 4627477.