Ready, Steady, SHOW! is The Civic's Festival for Young Audiences. Earlier this year we invited some of the best practitioners in this field to come and play at The Civic and present their ideas and to apply for our Ready Steady SHOW! Commissions and Artist Development Programme. We are delighted to announce the recipients and are excited to work with them and support the development of their ideas as we find new and innovative ways of engaging and reimagining work for 0 – 12 year olds during COVID-19.
Katie O' Kelly & Osaro Azams have been commissioned €2.5k for the development of their theatre piece "The Other World''.  We had a chat with Katie to find out a little more about her and what her plans are.
Can you tell us a little bit about yourself, where you are from, based now and your background in the Arts?
I'm an actor, writer, voiceover artist and cat lover from Dublin! I'm a Dubliner through and through, I grew up here and happily think it's a great city so apart from touring, I'm based here full time. I studied Drama and Theatre Studies in Trinity College, and started acting in plays as soon I finished. I love touring live shows, and have been lucky enough to tour to Europe, the Middle East and Africa with productions, as well as all over Ireland. Its great fun sharing stories with new audiences, and seeing the different reactions they get!
Can you tell us a little bit about the recent things you have been working on?
Just before Lockdown I was in Egypt with a production of James Joyce's Dubliners stories called Dubliners Women. We actually toured it to The Civic a couple of years ago and had the best time performing it there! My theatre company WitchWork focuses on socially conscious theatre and original adaptations for new audiences. Since Lockdown, I have been focusing on my writing work, and experimenting with new forms of storytelling.
Can you tell us a little bit about what you are working on for Ready Steady, SHOW! ?
Myself and Osaro Azams are working on a piece which dives in to the inbetweeny space where stories are made. We're exploring the spooky tales our grandparents passed down to us, stories of the Banshee's howl or Mami Wata's mermaid-like tail…the bits of Irish and Nigerian mythology that overlap and are passed down, and why we are drawn to them.
What's like like under Quarantine, how have you been working/ engaging, any insights about life or the Arts?
I've had really good days where I got lots of work done, but there have been days where its been hard to concentrate and focus on things. I'm used to working in a room with people, so it's been tricky figuring out how to do that on my own! I've been doing lots of cycling and gardening in between work which has helped me get through the Lockdown, but I am really looking forward to working with people again in person – zoom just isn't the same!
Tell us a random fact about yourself for fun!
I love doing household DIY 😀 If anyone needs any IKEA flatpacks assembled, let me know!
Photo Credit:  Tom Maher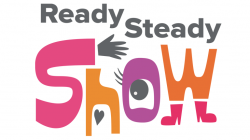 _______________________________________________
Ready, Steady, SHOW! developments will take place over the Summer & into the Autumn. Stay tuned to our Social Media Channels for more!