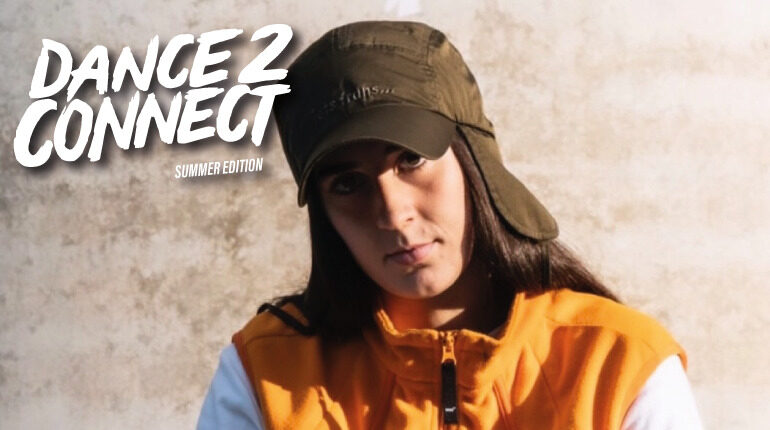 Motherfunk is a glasgow based dancer mainly focussing on the style Popping. she is currently traveling to battle, train and teach all over the UK and Europe representing The dimestop and AIM popping collectives. Motherfunk continues to teach classes all over Scotland to spread as much knowledge about the dance and culture as possible. Some of Motherfunks credits include Jax Jones, WSTRN, Cadbury's and Irn bru.

---
Motherfunk kindly took part in a Q&A and here is what we found out.
How did you get involved in Dance 2 Connect?
I first went to Dance 2 connect in 2018, It was one of my first hip hop battles. I won 2v2 that year with Tobi.

Tell us about your style of dance in the Dance 2 Connect workshops?
The style of dance I do is Popping, popping means contraction and release of muscles and we make this look like an illusion by popping to the beats in the music in different rhythm patterns and using different textures.
What can participants expect when they take part in your workshop?
Participants can expect a fun, enjoyable workshop where they will get the chance to connect with the other dancers in the room and at the same time learn a new set of skills and ways of thinking about their own body and mind in movement.
What one bit of advice would you give aspiring dancers?
The best advice I can give an aspiring dancer is to always enjoy it first ! Working yourself too hard will possibly make you lose passion and love for dance. I always tell my students to use the word "Yet" more, I.e I can't do it "yet" instead of I can't do it because our bodies and minds are capable beyond our understanding.
Tell us what song always gets you on the dance floor?
The song that always gets me on the dance floor is -Never too much by Luther Vandros.
---
Join Motherfunk at The Civic on the 8th of July at 7:30pm for a Master class in the style of Popping. With limited availability early booking is advised. This fun, energetic and informative evening will benefit anyone who would like to improve their skills or start their journey as a dancer.
Workshops are €15 or you can book all 3 for just €35. Participants who take part in the workshops will also receive a FREE ticket for the Dance 2 Connect Dance Theatre Night on Sat 9th July. 

Now in its 5th year at Civic, Dance2Connect Street Dance Festival is back with a Summer Edition for 2022!
This year's festival brings together a host of Internationally acclaimed artists, local talent and communities, for a series of Workshops (Friday 8th), Performances & Street Dance Film (Saturday 9th) and Battles (Sunday 10th). 
Dance2Connect offers loads of opportunities to get involved. With an emphasis on creating a platform for emerging choreographers and dancers, intergenerational exchange, inclusion and diversity, all are welcome to come and immerse themselves in this dance culture.