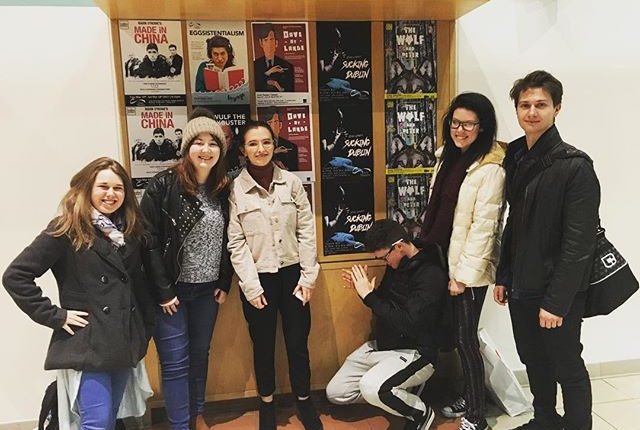 Freshly Ground Theatre is a young theatre collective from Tallaght.  They attended opening night of Made In China on Tuesday and we asked them to writer a review. They will appear at the Civic in April in their production of Sucking Dublin by Enda Walsh. Click Here for More.
Made In China Review
The Loose End Studio at the Civic Theatre plays host to Mark O'Rowe's hard cut, violent and hilarious Made In China. A raw piece of theatre that focuses on the dysfunctional friendship of three troubled men. Hughie, Paddy and Kilby are embroiled in a gritty criminal underworld, each battling their own sense of morality and judgement in a struggle to prioritise their loyalties with one another against their desires for personal gain.
The play, brought back due to popular demand, introduces us to Hughie (Edwin Mullane), Paddy (Rex Ryan) and Kilby (Neil Fleming). The performances of the three leading men were varied and truthful. Mullane gave an intimate portrayal of Hughie's moral struggle as a leading enforcer in a violent gang, allowing us to see his character's tenderness gradually corrupted from the inside as the events of the play push him to the brink. While Hughie's long-time friend Paddy pulls heartstrings as a result of his dumbfounded innocence, a credit to Ryan's believable portrayal, as Paddy becomes tainted and conflicted more and more by the notion of status and machismo. Kilby, the psychopathic right-hand man of the boss that runs the gang the trio are affiliated with, exudes superficial dominance and machismo throughout the play. Fleming's outstanding portrayal is by no means two-dimensional, as Kilby's unpredictable aggressive nature is also marred with the fragility and over-compensation of a traumatised masculinity.
The black humour and the explosive Dublin vernacular that is so distinct of O'Rowe's style along with the dull, confined set, create an uneasy environment which allows the tension to thrive and gradually escalate to a powerful ending. The raging storm throughout adds to the aggressive atmosphere that lingers in the theatre for the entire show along with the steady and strong, but simple bright lighting that felt so intense on the characters yet did not pull away focus from the script.
Jed Murray's direction is excellent in providing an engaging visual spectacle that allows the characters and dialogue to shine, while preventing the stage from becoming overly chaotic as it easily could. The wild, insane presence of each character combined with the sharp clashes between one another has you unsure what to expect, wondering what will be the next outrageous event to happen on stage?
Overall, a phenomenal presentation of theatrical madness in a twisted story loaded with violence, verbal fireworks and provocative humour, carried by three incredible performances and solid direction. Made In China is a spectacle of a play that dances between moments of poignant levity and raw intensity, one not to be missed! Continues at the Loose End until Saturday 18th March.
By Vlad Gurdis, Michelle Henry and Laura Henry
Freshly Ground Theatre
Thanks for attending and the great review!
————————————————————————————————————————–
MADE IN CHINA, Tuesday 14th – Saturday 18th March 8.15pm