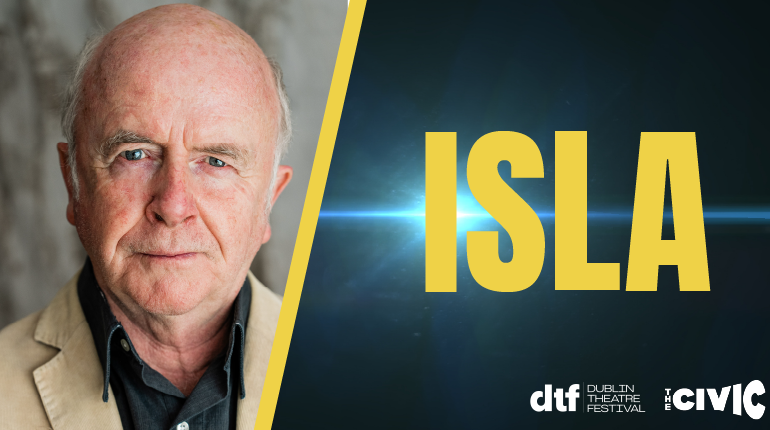 Verdant Productions, Four Rivers and The Civic Theatre present
The Irish premiere of
Isla by Tim Price
as part of the Dublin Theatre Festival
A dark comedy about a widower and a talking device. featuring Mark Lambert, Tina Kellegher and Sarah Madigan.
Let's find out more about Mark, who plays Roger.
Mark Lambert – Roger
Mark is delighted to be reprising the role of Roger which he created in the original co-production with The Royal Court of ISLA at Theatre Clywd (Wales). He was recently seen in AMONGST MEN, a new play by Eoghan Rua Finn with Four Rivers Productions at The Wexford Arts Centre.
Recent work includes: The Ferryman dir by Sam Mendes/Gielgud Theatre and on Broadway, The Phlebotomist/Hampstead Theatre, directed by Sam Yates.
For The Abbey and Peacock:   Heartbreak House, Twelfth Night (Irish Times nomination for Best Supporting Actor),  The Dead, She Stoops To Conquer, Ariel, The Gigli Concert, Barbaric Comedies (Irish Times nomination for Best Actor), Enlightenment, Hamlet, The Patrick Pearse Motel, Observe the Sons of Ulster Marching Towards the Somme, The School for Scandal.
For The Gate Theatre:  The Importance of Being Earnest, Romeo and Juliet, Molly Sweeney, The Three Sisters, Art, A Month in the Country, The Weir, Aristocrats, Festen and The Spirit of Annie Ross.  
With The Royal Court: Our Country's Good, The Recruiting Officer, Built On Sand, Ourselves Alone.
RSC productions include: Red, Black and Ignorant, Tout, Comrade Ogilvy, Alls Well That Ends Well.
West End productions include: Dancing At Lughnasa (Phoenix and Garrick), Memory of Water (Vaudeville Theatre which won the Olivier for Best Production). Juno and The Paycock (Albery & Wyndhams) for which he received and Olivier nomination for his role as Joxer.
Other productions include: Sweeney Todd (Theater Orchester Biel), Long Day's Journey Into Night,  Comedians (Young Vic), Plaza Suite, Don Carlos (Rough Magic), Brighton (Theatre Royal Waterford).
Recent Film and TV includes:
SISTERS (Peer Pressure, Merman, Shaftesbury Pics, Christmas at Castle Hart (Hallmark), The South Westerlies (Deadpan Pics), Agatha Christie and The Curse Of Ishtar (Darlow Smithson Prods),  Women On The Verge (Deadpan Pics), The Journey (IFC Films), Fair City (series regular, RTE), Nowhere Fast (RTE), The Bailout (TV3), Rebellion (RTE), ROY (Series regular Jam Media/CBBC), The Tudors (Mini-series Peach Arch Prods.),  (RAW (Octagon Films).
Previous Film and TV includes: Single-handed (Element Films), September (BBC), Heartbeat (Yorkshire TV), George Gently (BBC), Rosemary and Thyme (BBC), The Bill (5 series, Thames TV), A Touch Of Frost (Yorkshire TV), Vanity Fair(BBC),Cracker(Granada), Annie's Bar (Channel 4), Dalziel & Pascoe (BBC), Sharpe's Regiment (Carlton), Bottom (BBC), The Young Ones (BBC).
Previews – Thursday 28th – Friday 29th Sep. 8pm
Opening – Sat. 30th Sep. 8pm
Sunday 1st Oct 8pm
Monday 2nd Oct. NO SHOW
Tuesday 3rd – Sat 7th Oct 8pm
Matinee Sunday 1st Oct. 2pm
The Civic Sessions
Join us for a post-show discussion with cast and creatives on Tuesday 3rd Oct.
Supported by The Arts Council